Bah, don't have the skills or the hosting server to do a Quincy-like race report justice, but I'll do my best.
Qualifying: I equalled my pb with a 1:21.5, which was 0.08 behind arrow but 4 positions lower than him on the grid to line up 17th. That gives you some idea of the closeness of the field.
Vincent Staal hosed everyone with a 1:20.4 I think, a great effort from the Dutchman. The current WR holder Marcel Krause (sandman90) was 2nd for Germany.
A decent start for me, though with fps dropping to about 13-14 through the first lap it was like driving a slideshow. Dropped a spot or two, but basically cruised the first few laps. Lap 5 I saw the first "Serbian Incident" when Boris Ninic started a war with Russia: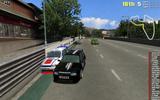 Meanwhile up the front there was a furious battle for 3rd:
On lap 7 I crunched the wall, stupidly, through the first turns, borking my right front camber settings for the rest of the race:
Meanwhile Arrow was benefitting from some inspired driving by the Czech team:
And began to close on the next pack, filling the 2nd half of the top 10:
I spent about 20 laps stuck behind another of the Czech team (Poly), with the Serbian Darko Nikilin getting past me towards the end. There were a couple of other interesting battles through the field like this one for 5th place between the US driver Scott and the Finn Vuorinen, with the Austrian drivers keeping in touch:
Coming towards the last 2 laps, I had resigned myself to 12th place, with Nikilin and Poly too far ahead for me to mount a serious challenge. However, Euro-style racing was to play into my hands. As the hour had passed and we approached the line on the 44th lap, my Czech friend decided that it would be hilarious to crash his Serbian adversary once they'd crossed the finish line:
Unfortunately for both concerned, Vince had not yet crossed the line to complete the race so there was ONE LAP TO GO!
Tragedy for the Serbian, who was left upside-down. The Czech bounced however, and managed to crawl across the line in 11th.
Vincent Staal won the race by a massive 28 seconds, and revealed to the field the secret of his success:
I had an absolute hoot doing this race, with which I felt much more comfortable than the one at Blackwood. Bring on the LX6.
Flinty's Stats for the race can be found
here
.